Blackberry Passport only £429 or free on £33 for business users
Wednesday, 24 September 2014
Blackberry Passport, love it or hate it?
We was lucky enough to see the New Blackberry Passport last night a day before the official launch. The handset is unlike any other we have ever seen with a square screen and a very strange half a key pad! Playing around with the phone the screen is very sharp and is protected with Gorilla glass to help stop breaking or scratching.
Running their latest OS 10.3 the phone had no issues with coping with any of the tasks we asked of it and was very responsive, this would be down to the super fact 2.2GHZ quad core processor. The phone can also run Android app as well as the standard Blackberry one, so many more apps to choose from. Added to this is a massive 3450 mah battery so no running out of juice half way through the day like its competitors and BB state you can get 2 days of normal use out of the phone!
This device real is different in appearance as well as feature and we are offering the device sim free today from £429 plus vat or for business users from only £33 plus vat with unlimited calls, texts and 1gb of data or £35 for 2gb.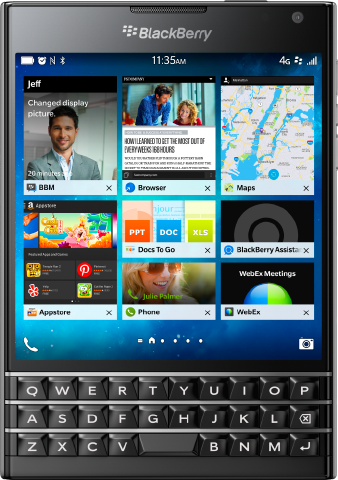 FEATURES:
11.43cm square touch display
13 MP OIS camera
32 GB Internal storage
3450 mAh battery (Up to 30 hours battery life)
1440 x 1440 resolution, 453 PPI
1080p HD video recording at 60 fps
Corning Gorilla Glass 3
Supported Bands:
LTE 3,7,8,20
HSPA+ 1,2,5/6, 8, EDGE