Sonim XP8 The world's toughest, most reliable smartphone
Tuesday, 25 September 2018
Sonim XP8
The world's toughest, most reliable smartphone
Phonetrader will be the first stockist in the UK to have this phone.
We offer the phone FREE as an upgrade for business customers.
So call 01327 301667 for more info.
Or order the SONIM XP8
Serving, protecting and providing for others demands a smart device you can rely on.
Sonim XP8 is the world's most reliable ultra-rugged smartphone.
Built to provide those who serve with the smart communication they need, regardless of situation or environment.
The XP8 difference
No other device is as rugged and smart
Sonim XP8 is more than just another rugged smartphone. It is, quite simply, the toughest, most reliable Band 14/FirstNet enabled smartphone one can carry.

Ultra-Rugged with Productivity Tools
Military-rated design ensures reliable smart communication, and management applications improve business efficiency
Glove-friendly
A 5" puncture-resistant glove and wet compatible touchscreen for easy interaction and clear visibility
OneTouch Push-to-Talk
Dedicated OneTouch PTT for quick emergency communication, plus the ability to power remote speaker microphones without additional batteries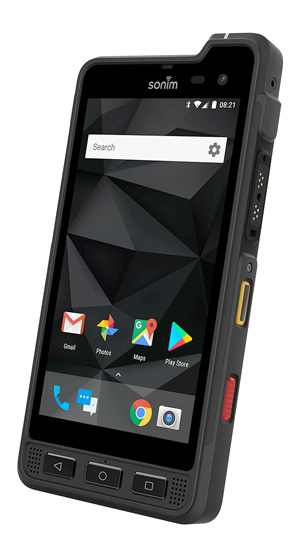 Features
Survive hazardous environments with IP-68, IP-69, MIL 810G, Non-Incendive Class I, II & III Div 2 ratings
Instantly connect and share private information on the nation's only dedicated public safety network with FirstNet and B14 capabilities
Access programmable buttons and applications in any condition with Gloved hand/Wet finger operation
Hear every word even in the noisiest places with Extremely Loud & Clear Audio
Connect instantly, reliably, every single time with Push-To-Talk*
Communicate more powerfully, more freely with Handset Powered Audio Accessories connected through Sonim's SecureAudio Connector
Enjoy all-day power with Multi-shift Battery Life
Install, manage and control communications more efficiently with Hassle-Free Deployment and the Sonim SCOUT Enterprise XPerience
Get more out of your device and your workers with Android and Worker Productivity Applications*
Do more in more places with Industrial-grade Accessories connected through Sonim's Xpand Interface
Communicate more, worry less with an unmatched 3-year Comprehensive Warranty