Defender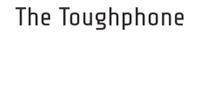 The Toughphone developed the Defender handset after years of experience working with rugged mobile tech. With a no-compromise approach to developing the handset it has a powerful internal spec and super robust exterior chassis.
Perfect for use outdoors, in wet conditions and any working environment.
Defender TAB 6£399.00 - £499.00

Rugged Phone with optional Honeywell Barcode Scanner

Defender Tab 4£699.99

The first rugged, waterproof 8 inch tablet running Android 10

Defender TAB 3£549.99

Rugged, Android, 4g, 5.5" Tablet with 2D Barcode Scanner

Defender TAB 3 with Pistol Grip£599.99

Rugged Tablet with 2D Barcode Scanner and Pistol Grip

Defender TAB 2£549.99 - £838.80

The largest rugged tablet in the Defender range. Tough 8″ HD IPS 1900×1200. Running Android™ ® OS 9, LTE 4G.

Defender TAB£419.99 - £802.80

Rugged Android™ Tablet, LTE 4G.Android 9

Defender Premium Leather Case£40.80

Defender 1 Case

Defender Wireless Desktop Charger£34.80

Defender Wireless Desktop charger. Suitable for any conductive/Qi enabled smartphone.