NGM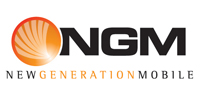 NGM is the market leader in the production of Dual SIM mobile phones with a range across eight product families to meet the tastes of a wide range of customers, from young to old.
We are pleased to introduce NGM to the UK! For more information, please get in touch.

NGM Explorer£189.00 £149.00
Android, dual sim. Toughened Gorilla glass. Highest waterproof rating, IP68.Long battery up to 2 weeks on standby.