NEW: PhoneTrader Roaming SIM
Tuesday, 4 February 2014
New in stock we have a new type of sim card that we think a lot of our handset users are going to love. The PhoneTrader Roaming SIM is a pay as you go sim card that works across all major UK mobile networks ensuring you maintain a connection wherever there is reception.
Why be confined to the network coverage of just one network when you can have the coverage of several?!

The sim cards are £30 to purchase and come pre-loaded with £10 credit to get you started. All you need to do is pop it into either the main or secondary sim slot on your mobile phone and it will get a network connection. The sim card is on a pay as you go tariff charged at the following rates:
Calls to UK landline and mobiles: 33p per minute.
Text Messages: 15p each.
Data Usage: 55p per MB.
Monthly Line Rental: £1
TOP-UP
Topping up your roaming sim account couldn't be easier, it's done instantly via the web. Visit: http://www.thephonetrader.easypayg.com/
Simply fill in your details and roaming mobile number into the fields and select how much, pay by card and you're done.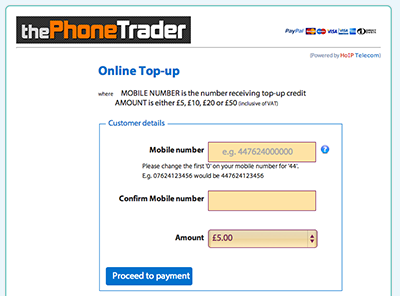 Running Low? Don't worry we give you a £1 reserve tank just in-case you're unable to get to a computer to top-up in time.
STAY CONNECTED
If you have a dual sim handset like some of the models we sell then you're in luck! If you struggle to get a decent mobile signal on your normal mobile network then simply setup a forward 'When not available' via your phone and set the call to divert over to the phone number of a PhoneTrader Roaming SIM. The network will forward the call through to your roaming sim card which is likely to always be available* For advice on setting up the divert give us a call on 0800 849 9990.

That's it! It couldn't be easier to beat poor mobile reception problems.
For more information:
Call: 0800 849 9990
Email: sales@thephonetrader.co.uk
*Please be sure to check any divert call charges with your network.